Some pool issues can be quickly diagnosed; cloudy pool water is not one of them. When your pool water is cloudy, you are going to have a bit of investigating to do. Several key reasons lead to this cloudy water; however, you will eventually get to the bottom of the issue. The most time you spend as a pool owner, it will be easier for you to learn how to clear up a cloudy pool. Let's look at why your pool is cloudy and how you can quickly and easily fix it.
Why Is My Pool Cloudy?
HTH 67029 Drop Out Flocculant Swimming Pool Cleaner, 1 qt
In The Swim Pool Shock – 68% Cal-Hypo Granular Sanitizer for Crystal Clear Water – Defends Against Bacteria, Algae, and...
Clorox Pool&Spa Super Water Clarifier 32 oz
Taylor K-2005 Complete DPD High Range, 9-in-1 Pool & Spa Test Kit for Free & Total Chlorine, Bromine, pH, Acid & Base Demand,...
HTH 67025 Filter Cleaner Care for Swimming Pools, 1 qt
HTH 67029 Drop Out Flocculant Swimming Pool Cleaner, 1 qt
In The Swim Pool Shock – 68% Cal-Hypo Granular Sanitizer for Crystal Clear Water – Defends Against Bacteria, Algae, and...
Clorox Pool&Spa Super Water Clarifier 32 oz
Taylor K-2005 Complete DPD High Range, 9-in-1 Pool & Spa Test Kit for Free & Total Chlorine, Bromine, pH, Acid & Base Demand,...
HTH 67025 Filter Cleaner Care for Swimming Pools, 1 qt
There are six main reasons why your pool water may be cloudy. These reasons can vary, and unfortunately, there are times that you may have more than one thing causing cloudy pool water.
1) Chlorine Issues
Chlorine is a great thing for your pool water. Having the proper chlorine levels will make sure that your pool stays clear and the swimmers stay healthy. Chlorine will kill off bad bacteria and keep your pool from turning green. However, it is important to understand that too much chlorine is not a good thing.
Some pool owners get the idea that they want to have lots of chlorine in their pool to keep it clean. In reality, chlorine needs to be kept in a certain range. If you stay in the proper range, your pool will be much safer. You cannot keep adding chlorine to your pool without checking on the range.
The proper chlorine levels are between 2 and 4 ppm. Before adding chlorine to your pool, you must check to ensure that the pool chemicals are balanced. If the pool has too much chlorine in the water, it won't filter the chlorine properly, and you will end up with cloudy pool water.
2) A Large Number of Swimmers
Sometimes after a pool party, you will notice that your pool water gets a bit cloudy. Having a large number of swimmers in your pool can absolutely make your pool water cloudy. When people enter a pool, some bacteria and biofilms come off of them into the pool. We know this may sound a bit gross, but it's just a reality of being in a swimming pool.
Don't be too disturbed about this because most of the time, the chlorine will take care of these issues. The chlorine in the pool will attack this harmful bacteria and break it down and send it through the filter system.
This same process happens when there are only a few people swimming in the pool. However, when extra swimmers are added, it can be hard for the pool to keep up. The chlorine gets depleted much faster, and your water will get cloudy.
If you have a large number of swimmers in your pool, you may need to use test strips to keep an eye on the pool chlorine levels. You can also shock your pool again after a day of swimming with friends. This is a smart way to avoid cloudy pool water.
3) Storms
Mother nature can wreak havoc on your pool. There are times that you will have the pool chemicals completely balanced, only to find out that a storm is heading your way. Although you may need some rainwater in your pool, that water does not come with balanced chemicals.
In fact, the rainwater will cause your coloring levels and sometimes your pH level to be affected. After a solid rain, it is not uncommon to have cloudy pool water to deal with. You will also notice that if leaves and debris get into your pool, you will see the water get cloudy as well.
Most of the time, fixing the cloudy water after a rain is relatively easy. As long as you stay on top of the pool maintenance, you should quickly return chlorine levels and chemical levels to where they need to be. Keep your filter system running a little extra to help with the effect the storms have on pools.
4) Pool Filtration
A pool filtration system is intended to keep pool water clear. The water in the pool goes through a pool filter and is clarified and then returned to the pool. When you notice that your pool water is cloudy, it could very well have something to do with the filtration system not working properly.
Are you running your pool filter enough? Is the pool filter clogged or blocked somehow? Pool owners will quickly realize that a pool filter can be your best friend and your worst enemy. The pool filter that is working well does a beautiful job of cleaning the pool. However, once you start to experience pool filter issues, your pool maintenance will get much more difficult.
Try to learn about the type of filter you have and whether or not you are completing proper maintenance on your pool filter. Filters sometimes need to be rinsed and cleaner. If they are clogged or dirty, they will not filter water properly, and your pool will get cloudy.
5) Shocking
Shocking your pool can be an excellent thing for it. In fact, sometimes, a solution for a cloudy pool can be to shock it. However, some people will also notice that after they shock their pool, it looks a bit cloudy. Shocking a pool can cause cloudy water. As the shock works to break down the pool water issues, it will often make it quite cloudy.
This is a common issue, and most of the time, it will go away as the pool chlorine starts to dissipate and the shock works on the pool water. Always make sure your filter is running when you shock the pool. The increased water flow will help to ensure that the shock does not cause cloudy water.
6) pH Issues
Your pool's ph level will tell you how acidic or basic your pool water is. When your pH gets too high, you could have issues with the water being too acidic. The high acid level in the pool can create a scale on the walls of the pool. Unfortunately, this scale is also on the interior of the pool system, making the water cloudy.
This is an issue that needs to be cleared up as soon as possible. The high pH is not only a problem with the cloudy pool water, but it is also going to be a problem when it comes to water flow. If you let the pH levels stay too high for too long, there could be buildup inside your pool filter system. This is bad for the long term health of your pool system.
7) Calcium Hardness
As we have said many times, there is a definite need to check your pool chemicals constantly. The chlorine level is not the only thing that should be checked. YOur pool calcium levels are also important to keep an eye on. When your swimming pool has high calcium, it could very likely have buildup growing in the water and in the internal pool system.
Similar to the pH issues, the calcium levels need to get back on track before more damage is done to the pool filter. Calcium hardness is not difficult to check, but it is a step in regular pool maintenance.
8) Algae Starting
Algae is a nightmare. As a pool owner, you will want to do everything you can to avoid an algae outbreak in your pool. In fact, we will tell you that it is much easier to prevent an algae outbreak than it is to treat one. Sometimes seeing green on the bottom of your pool or the pool walls is one of the later steps in the process.
When algae start to bloom, it may simply start in the form of cloudy water. This can be a great warning sign for pool owners and allow you to treat the algae before it gets too bad. You may also see that a pool that had a recent algae outbreak is still a bit cloudy. It can take a while for the water to get completely cleared up again.
Why Is My Pool Water Cloudy: Common Questions
Now that you know why your pool water may be a bit cloudy, let's look at some of the most commonly asked questions about cloudy pool water. Chances are, as a pool owner, you are going to run into one of these situations at some point in time.
Why Is My Pool Water Cloudy After Opening a Pool?
When you open a pool, there are lots of chemicals that are added to make sure that the pool is safe for swimming. As the pool filter works to disperse these chemicals, you may notice that the water gets very cloudy. If your chemicals seem to be at the proper levels, the pool just may need some more time with the filter running.
Why Is the Pool Water Still Cloudy After Shocking and/or Adding Algaecide?
Take a look at the chemicals you add to your pool water to fix the cloudy swimming pool issue. Chances are they will say that you need to leave your pool filter running for a solid 24 hours after adding. Sometimes, it will take a little while for a cloudy pool to clear up; this is very common and should be expected when you work to clear up a cloudy pool.
Why Is the Pool Cloudy After Rain?
After a rainfall, the water in your swimming pool is no longer balanced. Water coming from the sky will not have the proper amount of chemicals in it, and it will throw off what is already going on in your pool. There is nothing that can be done about rainwater getting in your pool, so you must be ready to treat the water after the storm.
Pool Water Cloudy? How to Clear Cloudy Pool Water Fast
There are many ways to fix cloudy pool water, depending on the issue you are dealing with. Sometimes, it will take a combination of products to get your pool back to its clear state. Here are some of the most common ways to get your pool looking good and safe to swim again. Before starting any of these methods to clear up the pool, you will want to do a pool chemical check so that you know where you stand.
How to Clear Cloudy Pool With Baking Soda
If you find that your pH levels are the main issue with your swimming pool, you may want to use baking soda to increase your pH levels. It is important to remember that high pH can also cause cloudy swimming pool water.
You will need to test your current pH and then calculate how much the pH needs to be raised. The ideal pH level for your swimming pool is going to be between 7.2 and 7.8. It is best to slowly add the baking soda to get the pH level too high.
If your pH gets too high, you will have to use a different chemical to bring it back down. Save yourself the time and the money, and simply add about 2/3 of what you calculate that you will need. When you have done this, test your pH again and see if it worked to get your pH levels back to where they should be.
Sometimes putting baking soda in the pool will help to clear up cloudy water, but you may still need to shock the pool in addition to the baking soda.
Clear Cloudy Pool Water with Pool Flocculant
A pool flocculant is a unique chemical that can make it easy to clear up a cloudy pool quickly. If you have never seen flocculant work, it is actually quite interesting to watch.
First, find a pool flocculant product that is highly recommended and rated. Follow the direction on this product to ensure that you know the exact amount of chemical that needs to be placed in your pool. If you have a large swimming pool, you may need more than one bottle of flocculant.
You will then add the flocculant to the water of your pool and watch it do its thing. The flocculant is going to attack all of the negative things floating in your pool water and bring them to the bottom of the pool. You will then take your pool vacuum and clean out the debris.
One of the great things about pool flocculant is that you won't have to worry about overworking your filter. Adding the vacuum in as a partner in this process certainly helps to keep the pool looking more clear without causing so much stress on your pool filter.
Best Pool Flocculant: HTH Flocculant Swimming Cleaner
Sale
Drop Out Flocculant Swimming Pool Cleaner
BENEFITS: Takes dull and cloudy pool water and quickly turns it to a crystal-clear swimming pool that you can enjoy all season long
USE: Apply flocculant directly to pool; follow package instructions for best results
COMPATIBILITY: Only for pools that can vacuum settled material directly to waste and not through the filter; works with saltwater pools
FEATURES: Pool floc will not affect pH levels or damage filter equipment; Clears cloudy pool water; Improves filtration
INCLUDES: One 1-qt container of drop out flocculant for your swimming pool water
The HTH Flocculant is a great way to get the water in your pool crystal clear again. All of the debris and bacteria in your water will end up on the bottom of the pool in a simple and easy pile for you to vacuum.
Pros
Add directly to the pool
Affordable pool floc
Debris will collect on the bottom of your pool
Cons
Need to use with a vacuum
Shock Your Pool To Clear the Water
If you find that your chlorine levels are a bit low or a large group of swimmers, you may need to shock your pool to get the water to clear up. Sometimes small particles in the water will not disappear unless they are hit with a pool shock.
When you shock your pool, you will need to follow this procedure closely. Make sure that you know the exact amount of shock to use for your current swimming pool size. Most of the time, you will need to know how many gallons of water your pool takes to shock it properly.
The biggest and most helpful tip is to put pool shock in the pool at night. If you add pool shock during the day, the sun will burn it off and leave you with very low amounts of shock left in the pool. For truly clear water, you want to shock after the sun has gone down.
It is also essential to keep your pool filter running for at least 24 hours after you shock the pool. Swimming pools do not have natural water flow without the filter is on. Letting shock settle on the bottom of the pool is probably going to cause stains to your pool. It will also not work to clean your pool water.
With the filter on, the water flow will be increased, and filtration will be greatly improved. In prime season you should be shocking your pool every other week or so. Many people wait to shock their pool when there is a problem; shock can also be used to prevent these problems.
Best Pool Shock: In The Swim Chlorine Pool Shock
In The Swim Chlorine Pool Shock
Powerful chlorine shock treatment that is great for regular maintenance.
Quickly eliminates algae, bacteria, and other harmful contaminants from your pool water.
Main active ingredient is 68% Calcium Hypochlorite (Cal-Hypo) for quick sanitizing.
Dosage: 1 Pound per 10,000 gallons
Cal-Chlor granules can be used in swimming pools, spas and hot tubs. Must pre-dissolve/dilute to prevent bleaching of the liner.
The In The Swim pool shock is a strong and effective pool chlorine shock. This set of 24, one-pound bags make it easier for pool owners to put the exact amount of shock in the pool that is necessary. Some pool shocks are less potent, but this In The Swim will get your pool clear again.
Pros
Effect
High chlorine levels
Fast acting
Cons
Pool shock can be a bit expensive if you use it often
Use a Pool Water Clarifier in Your Pool
Some pool owners think that pool floc and pool clarifier are the same things; this is not the case. A water clarifier does not cause particles to drop to the bottom of your pool. The clarifier will work to help your filter remove dirty particles from the water and get the water looking clear again.
The water clarifier is typically a liquid product that is put directly in the water. Similar to a pool shock, you will want to keep the pool filter running while you are adding the water clarifier. Remember that this clarifier will have to make its way across your entire pool; you cannot expect for this to clear up in minutes. You may notice a change after a day or so.
Best Swimming Pool Clarifier: Clorox Pool Water Clarifier
Sale
Clorox Pool & Spa Super Water Clarifier
Concentrated pool clarifier to clear dull, hazy or cloudy pool water
Creates crystal clear pool water
Combines Small particles into large ones for easy filter removal
Use weekly to maintain clear water
Great for before or after a pool party for crystal clear water
The Clorox Pool Water Clarifier is a liquid chemical that can be added to your pool to help clear up the water. This is a simple product to use, and it is quite effective. Pay careful attention to add the proper amount. Remember that cloudy pool water can sometimes be caused by too many chemicals being added to the pool.
Pros
Great for home pools
Easy to use
Helps improve filtration
Cons
Won't clear up pool algae
Balance the Chemicals in the Pool
Cloudy pool water most often has to do with trouble balancing pool water. At least once a week, you should check your swimming pool water to see where the chemicals stand. If you want to fix cloudy pool water, you first need to know where your water chemistry stands.
Proper swimming pool water chemistry takes a bit of time to learn. You will need to know the levels of each of the chemicals and the perfect range for your pool. A good water chemistry test kit will give you all of these levels and help you eliminate cloudy water in no time.
Best Pool Water Test Kit: Taylor Deluxe Pool Water Test
Sale
Although simple test strips can be good for everyday maintenance, you will want to have a large test kit like this. When you have a swimming pool, testing for high pH or low chlorine is not always enough. As you may remember, high calcium is another issue that can cause cloudy water. Use a test kit like this to learn about any of the water issues you may have.
Pros
Checks a wide range of chemical issues
Will last a long time
Comes in a storage case
Cons
Takes a bit of time to learn how to use properly
Vacuum Your Pool & Clean Filter
Cloudy pool water in your pool can simply be a problem with cleanliness. Your pool filter may not be clean, and your pool itself may have debris that needs to be vacuumed and disposed of. Keeping up with the debris on the bottom of the pool and the cleanliness of your filters will help clean up cloudy water.
The cartridge filter and the sand filter can develop filtration issues. Sometimes the sand in a filter will need to be replaced to ensure it is properly cleaning the water. With a cartridge filter, you will have to rinse the cartridges from time to time. DE filters also need to be cleaned. Although this process can take a bit of time, it is important to understand how your filter works and how these filtration issues lead to cloudy water.
There are filter cleaners on the market that will help you increase the lifespan of your pool equipment. These should be used from time to time, even before cloudy water presents itself. The pool filter cleaners can be used in above ground pool types and in-ground pools as well.
Best Pool Filter Cleaner: HTH Filter Cleaner Swimming Pool
Sale
HTH Filter Cleaner Care for Swimming Pools
BENEFITS: Clears out all the gunk that the swimming pool filter catches so that it can continue to run correctly and keep your water ready for fun all season long
USE: Apply in the evening and allow to work overnight
COMPATIBILITY: Great for all types of pool filters including cartridges, D.E. and sand filters; for all pool types including saltwater systems
FEATURES: Helps filtrations system to work more efficiently and last longer
INCLUDES: One 1-qt container of filter cleaner for your swimming pool water
The HTH Filter Cleaner is used on the sand filter, cartridge filter, and DE filters. You simply put the filter cleaner in the night before, and you will end up with a cleaner, more efficient filter the next morning.
Pros
Makes pool filter cleaning easier
Simple to use
Can use on all types of pool filter
Cons
Sometimes filters still need to be taken apart and cleaned
How Long Does It Take for a Cloudy Pool to Clear?
Typically it will take about 24-72 hours for pool water to clear up. The time it takes for the pool to clear is going to depend on the original reason that it was cloudy. If your pool was cloudy because it had too much chlorine, it might dissipate a bit overnight and clear things up. Some pool owners have great luck with pool floc and notice a difference in their pool water almost immediately after using. If you have a major chemical issue or a problem with your pool filter, the time it takes could increase to a few days.
Cloudy Pool Water FAQs
Can You Swim in a Cloudy Pool?
It is not a good idea to swim in cloudy pool water due to the likelihood of water chemistry being off which can be dangerous. If the chlorine is too high, skin irritation and breathing issues can occur. We recommend waiting until your pool water is clear again before taking a jump in the pool.
How Do I Clear a Cloudy Inground Pool?
A cloudy inground pool can be cleared the same way as an above ground pool. First, check the water chemistry and see if chemical levels are off. Then, consider using a pool clarifier to help clear up the water. Always keep your chemicals balanced and your filter clean to avoid this issue from happening in the future.
How Do I Make My Pool Water Crystal Clear?
If you want to keep your pool water clear at all times, here are some good tips to consider.
–Test Chemicals Often: Test pool chemicals every few days
–Skim and Vacuum: Skim and vacuum your pool several times per week
–Shock: Shock the pool once each week or at least every other week
–Run Filter: Ensure you are running your filter enough to keep up with water filtration
–Pool Clarifier: This can be used as a preventative measure as part of weekly maintenance
Get Rid Of Cloudy Water In The Pool For Good
Cloudy pool water takes some of our swimming days away. If you are going to pay for a pool and its maintenance, you will need to make sure that it stays in a condition that allows people to swim. Following proper pool maintenance procedures, knowing what causes cloudy pool water, and knowing how to fix cloudy pool water will help you maintain that perfect pool all year long.
Don't let the cloudy pool intimidate you. Most of the time, you will have things cleared up in a matter of a few days. The great thing about cloudy pool water is that you can usually keep it away if you stay on top of pool water chemistry.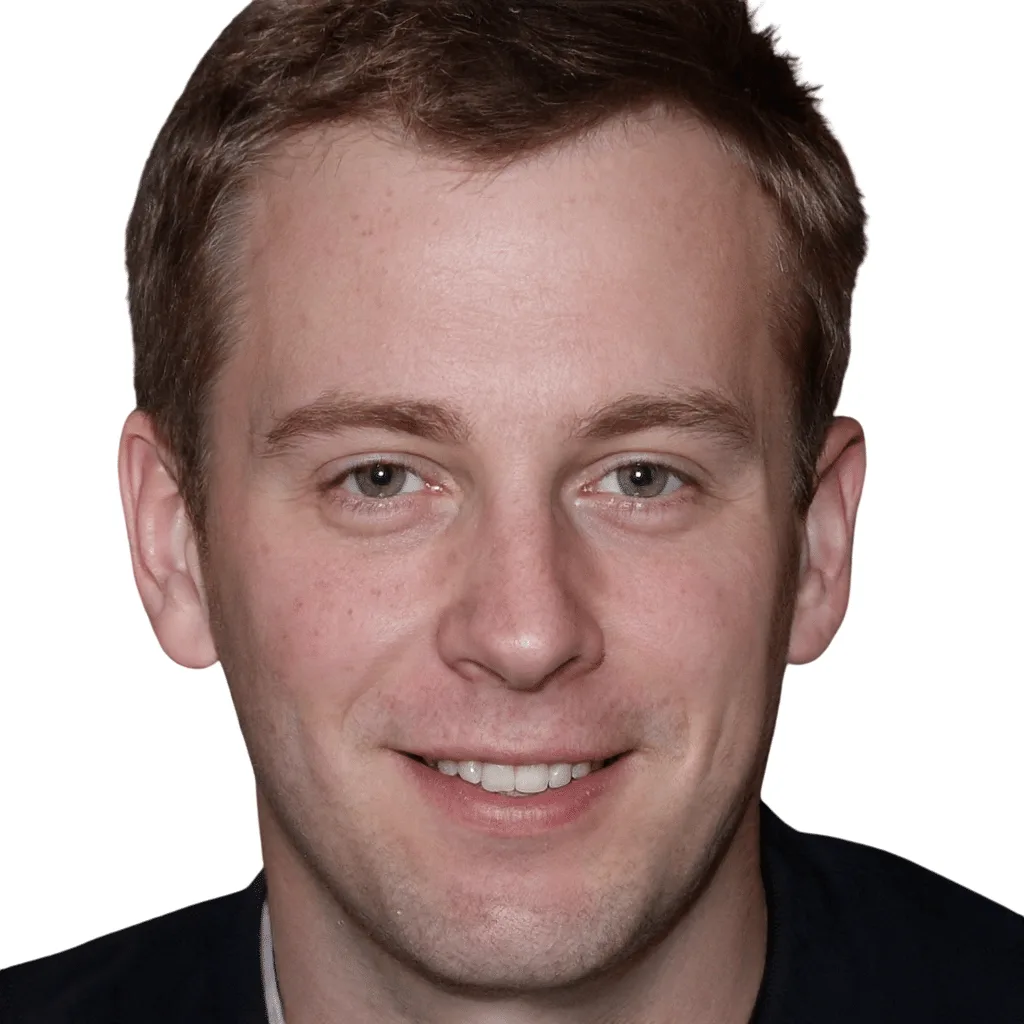 For over 15 years, Sean Moore has been sharing his love and enthusiasm for swimming pools and hot tubs with everyone he knows. His goal is to help everyday people DIY their maintenance to save money by teaching how to properly take care of your equipment, safely and correctly balance chemicals, and extend the life of your water oasis.
Pricing on this page was last updated on 2023-12-04